CORE at Church World Service AmeriCorps Member Conference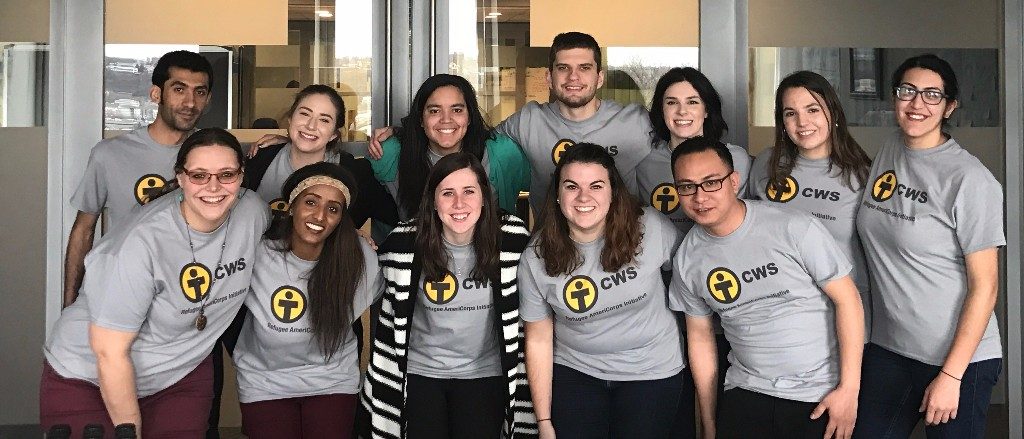 Conference organizer Ella Fowler (front row, left) poses with the group of conference participants. Photo courtesy of CWS.
On January 25, 2017, CORE Director Jason Crislip was invited to present at a Church World Service (CWS) AmeriCorps Member Conference at CWS headquarters in New York City. Attending the conference were 11 AmeriCorps Intensive Community Orientation trainers, representing nine local resettlement offices across the United States. Conference participants were very eager to hear about teaching methodologies and classroom management as they work with clients one-on-one and in group settings to provide intensive community orientation (ICO). A more in-depth cultural orientation, ICO is specific to the client's new community and focuses on client integration and self-sufficiency in the areas of housing and health.
Jason facilitated a presentation that introduced participants to CORE's role and scope, highlighting resources available on the CORE website. The group also explored the idea of cultural awareness in the CO classroom, discussed aspects of teaching methodology including creating a positive and inclusive learning environment, investigated the concept of knowledge, skills, and attitudes, took a closer look at resources, materials, and methods, and various ways to engage learners in groups, and examined the key components of lesson plans. The presentation ended with a reflective discussion and a lively question and answer session.
CORE at Project Welcome:
Libraries Serving Refugees and Asylum Seekers Summit
These multilingual posters by Hafuboti promoting library use for everyone are available for free download here.
On February 6-7, 2017, the Mortenson Center for International Library Programs held the Project Welcome Summit in Chicago, Illinois to help librarians across the United States learn about how they can contribute to the resettlement and integration of refugees and asylum seekers in the United States.
CORE Deputy Director Kate Steger participated in a panel discussion entitled Refugee and Asylum Seeker Support Organizations: Mission, Services and Information Needs of Refugees and Asylum Seekers. CORE's presentation introduced Cultural Orientation as a core service for refugees and offered suggestions for how local public and school libraries can work with resettlement offices to enhance community-specific Cultural Orientation for refugees. Kate also presented a poster on CORE's refugee communications project.
The Mortenson Center and the American Library Association, which partnered on the summit, will develop national recommendations and an action plan to further engage libraries in serving refugees. In advance of this report, librarians at the summit encouraged resettlement office staff to reach out to local librarians, invite them to become community partners, and raise awareness among refugee clients of the wide range of free services many libraries have to offer.