As the Coronavirus pandemic unfolded, Cultural Orientation providers and other resettlement staff in the United States developed innovative ways to support newly arrived clients. Meanwhile, at Resettlement Support Centers overseas, Cultural Orientation providers have the difficult task of preparing applicants for a resettlement journey fraught with even more uncertainties. As regular departures are set to resume, CORE created a Frequently Asked Questions (FAQ) webpage. The page will assist staff as they prepare refugees for travel and arrival in the U.S. during this period.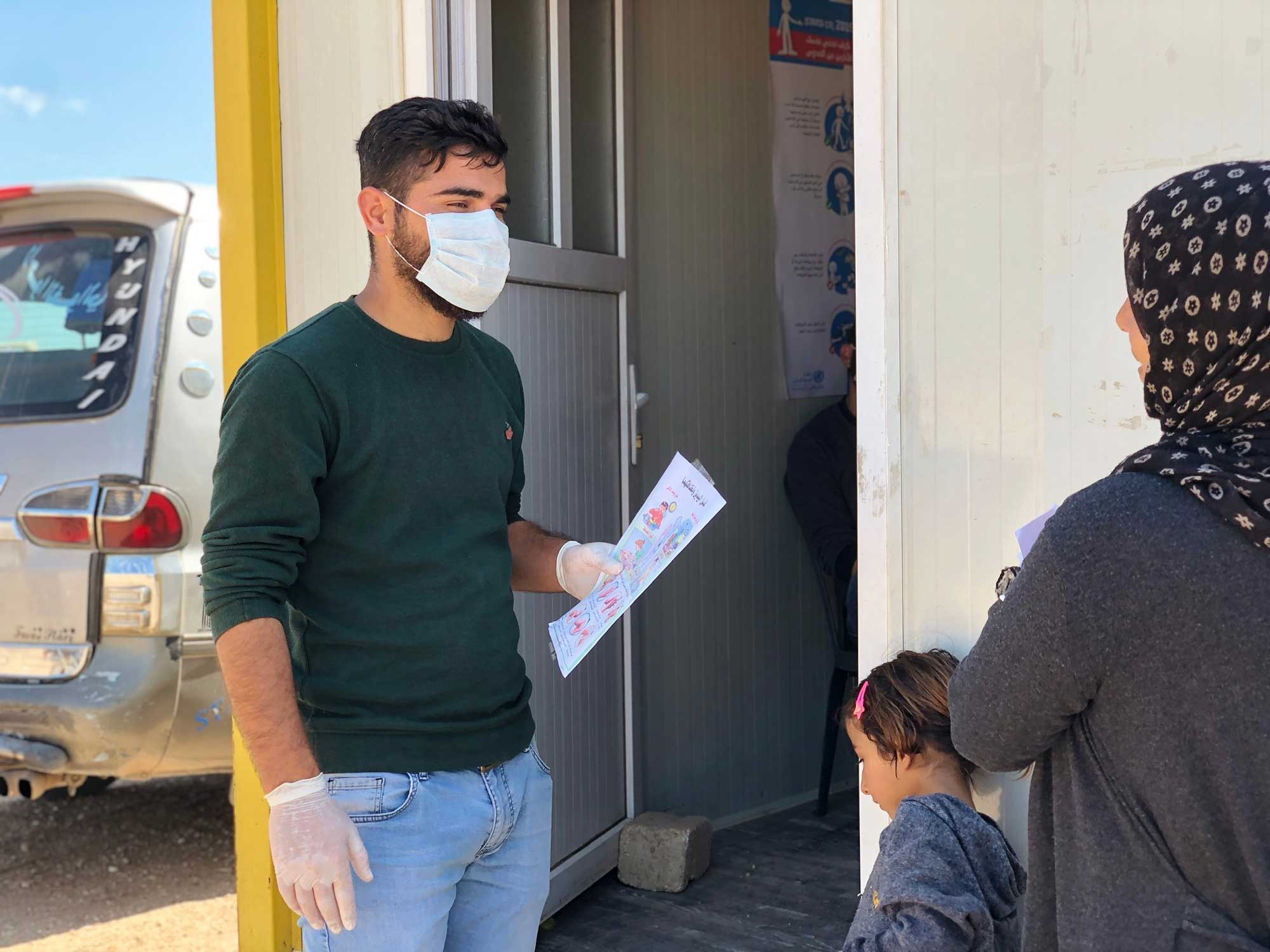 In addition to working with PRM, IOM, and the CDC to get answers to the FAQs, CORE received input from field and affiliate offices. CORE identified the following significant trends and new practices, which further highlight the resiliency of refugee resettlement during COVID-19.
1. Local Resettlement Agencies Work to Keep Refugees Informed on COVID-19
Resettlement Agencies found multiple ways to conduct outreach to keep refugees informed on changes due to the COVID-19 pandemic:
Cell phones: Several organizations report providing phones to refugees upon arrival, including Catholic Charities in Fort Worth, Texas. The phones have prepaid service plans with unlimited data so resettlement staff can stay in contact to minimize in-person interactions.
Voice messages: At Journey's End Refugee Services, Inc., the Church World Service affiliate site in Buffalo, New York, the staff added pre-recorded interpreted welcome messages to the phones.
Calling guide: New American Pathways in Atlanta, Georgia (a CWS affiliate) and IRC Atlanta created a calling guide to check on clients at home. The guide includes questions on awareness of COVID-19, how to access medical services, checking on availability of food and medication, and any concerns about benefits like unemployment.
Virtual bulletin board: For ongoing information, Integrated Refugee and Immigrant Services, the Episcopal Migration Ministries affiliate in New Haven, Connecticut, maintains a "virtual bulletin board" in the form of a Google site that houses updated resources for clients in a central space.
Translated materials and updates: Commonwealth Catholic Charities in Roanoke, Virginia, uses a dual-translation software, Talking Points, to send bi-weekly COVID-19 updates, translated materials, and videos to 150 families.
2. Engaging Community Partners during COVID-19
Community partners and volunteers have always played a pivotal role in refugee resettlement. During COVID-19, this hasn't changed:
Delivering essentials: Through an ongoing partnership with Exodus Ministries, the Ethiopian Community Association of Chicago has been able to provide families with various items, including welcome packs with essential home goods and grocery care packages.
Continued remote programming: At World Relief, offices continued to engage volunteers in remote educational programming and social support. For example, the Welcome from Home Volunteers perform various tasks: checking on the well-being of a family through a call or video chat, ordering groceries, sharing a meal virtually, or practicing English.
Free COVID-19 testing: Several sites, such as the Catholic Charities in Lincoln, Nebraska, are working with local organizations and cultural centers to facilitate ongoing, free COVID-19 testing with interpretation.
Health and safety videos: Journey's End Refugee Services in Buffalo, NY, a Church World Service affiliate, worked with community leaders to record videos to reinforce concepts like wearing masks and hand washing to strengthen community buy-in to prevent the spread of COVID-19.
3. Using Technology to Facilitate Learning and Community
Many offices found ways to use digital technology to connect with clients, share information, and build community:
Conference calls by language: IRC Sacramento holds conference calls by language group to talk about issues relevant to the community.
WhatsApp groups: The Church World Service affiliate, Kentucky Refugee Ministries, also created language specific WhatsApp groups.
Zoom workshops: Other sites started offering workshops for specific topics via Zoom, which helped eliminate transportation barriers and decreased childcare obstacles. For instance, Catholic Charities Archdiocese of Boston has clients watch CORE resources in their own language and then attend a virtual meeting with staff to discuss their learnings and questions.
Providing computers and tablets: Some sites that had existing digital inclusion programs, like Catholic Charities of Oregon, saw an increased demand to provide clients with computers or tablets, which allow clients to connect with their communities and take ESL classes online.
Virtual cooking: World Relief Durham, North Carolina conducted virtual cooking shows with multiple families.