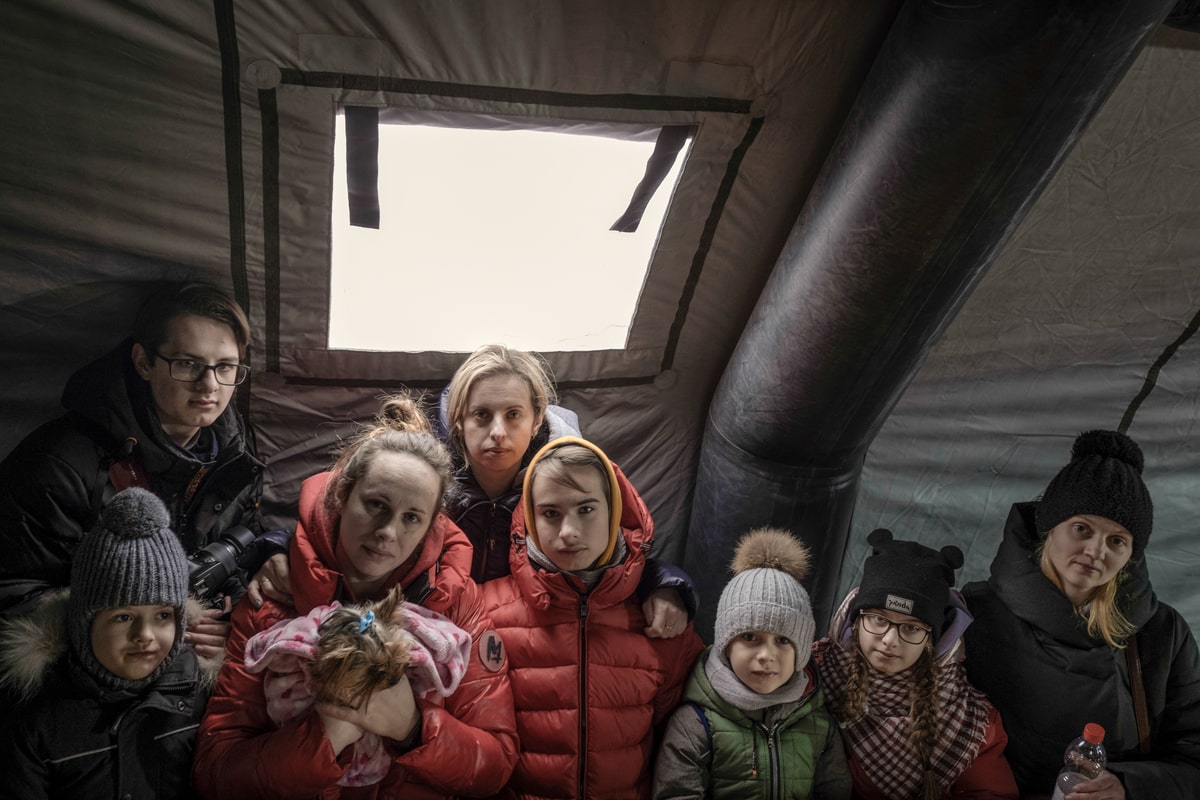 This backgrounder contains historical, political, and cultural information intended to cultivate a general understanding of Ukrainians who are arriving in the U.S. CORE produced this backgrounder to aid U.S. Resettlement Agencies (RAs) and their local affiliates and partners to provide culturally appropriate Cultural Orientation (CO) and other services to newly arrived Ukrainians. The information provided is intended as guidance and does not represent the needs and challenges of all Ukrainians. As such, service providers are encouraged to adapt their services as appropriate.
This page was last updated October 6th, 2022.
Current Situation
In February 2022, Russia launched a military invasion in Ukraine. The current conflict is the result of Russia's geopolitical ambitions and tensions among the complex identities competing in the region, also manifested in the 2014 annexation of the Crimea region.
Initially, most Ukrainian refugees fled to neighboring countries. While some Ukrainian refugees have sought resettlement in a third country, others have decided to stay close to home, waiting to return to Ukraine.
As Ukrainian refugees seek safety, there have been widespread reports of human trafficking and exploitation, including sex and labor trafficking. To address these risks, international and local organizations have implemented information campaigns and safeguarding measures to protect the human rights of displaced persons from Ukraine.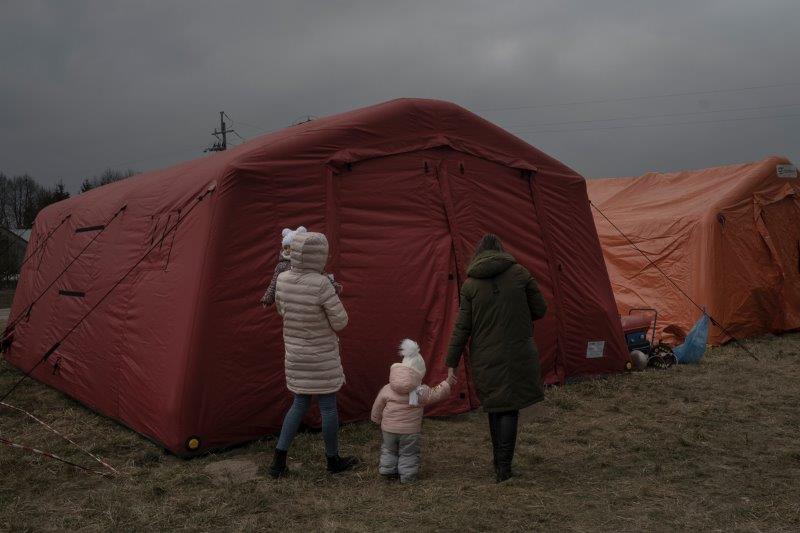 Pathways to Resettlement
Uniting for Ukraine provides a pathway for Ukrainian citizens and their immediate family members who are outside the United States to come to the United States and stay temporarily for a two-year period of parole. Ukrainians participating in Uniting for Ukraine must have a supporter in the United States who agrees to provide them with financial support for the duration of their stay in the United States.
The Lautenberg Program is a family reunification program that allows certain individuals legally residing in the United States to bring their family members to the U.S. through the U.S. Refugee Admissions Program. The U.S. Refugee Admissions Program is managed by the Bureau of Population, Refugees, and Migration (PRM). To be referred to the United States for resettlement, a refugee must be outside their country and is unable or unwilling to return because of a well-founded fear of persecution. The Lautenberg Amendment was first enacted in 1990 to facilitate the resettlement of Jews from the former Soviet Union. Today, the Lautenberg Program also includes other persecuted religious minorities including Evangelical Christians, Jehovah's Witnesses, Ukrainian Greek Catholics, and members of the Ukrainian Autocephalous Orthodox Church. To access this program, you must apply through a local resettlement agency.
Language and Identity Considerations
Ukraine is a bilingual country where both Ukrainian and Russian are commonly spoken and widely understood. Ukrainian is the official language, considered the first language by 67% of the population, while 30% of Ukrainians speak Russian as a first language. The use of Ukrainian is most prevalent in Western and Central Ukraine, while Russian is dominant in Eastern and Southern Ukraine. There are many other languages spoken in Ukraine, including but not limited to Romanian, Polish, and Hungarian.
After Ukraine became independent in August 1991, there was an effort to make Ukrainian the national language. In 2019, the State Language Law established Ukrainian as the country's official language in businesses, schools, and media. For many, the Ukrainian language symbolizes Ukraine's national identity and cultural heritage. Russia's military invasion has triggered further politicization of the language. It is important to confirm the language needs of the case and ensure appropriate interpretation while working with Ukrainian refugees coming from different regions.
Delivery of Cultural Orientation
In this section, learn more about effectively delivering key Cultural Orientation messages when working with Ukrainian refugees. Download the Full PDF version of the Ukrainian Backgrounder for a more detailed and contextualized information on these topics and other information.
Ukrainians come from a society with deep-rooted traditional views on identity roles, family dynamics, and religious and social norms. This can vary based on location and age and may impact their adjustment in the United States. However, with guidance and support, individuals can adapt and be more flexible.
Tips:
Dedicate time to explaining basic U.S. laws and norms, including but not limited to inclusion and diversity, cross-cultural aspects, and communications styles. 

 

Encourage the clients to share their concerns and expectations related to differences in social and cultural norms in the U.S. 

 

Urge individuals to learn English and build relationships with Ukrainian community members and those outside the community. 

 
Much of the Ukrainian population uses the internet due to widespread mobile and internet coverage across the country. Ukrainians often use social media and messengers, like Viber, Whatsapp, and Telegram, to disseminate news and information. However, the overall digital competence among the population remains below the basic level, and individuals may face challenges with cyber security and online fraud.  
 Tips: 
Consider utilizing the messenger apps as an additional tool for day-to-day communication with clients.  

 

Show clients how to explore relevant apps to facilitate their integration. 

 

Spend time showing individuals how to set up and leave voicemail messages and how to use Zoom or other conferencing systems they may need to use. 

 

Focus on the importance of digital security, including protecting personal data, being aware of misinformation, and recognizing the most common digital scams in the U.S. 

 
The COVID-19 pandemic and the Russian military invasion have impacted education in Ukraine, forcing educational institutions to transition to online learning. This transition has been difficult, especially in areas with limited digital literacy and financial support for virtual programs. Many school-aged children have at least a basic understanding of English. However, how English is spoken and taught in U.S. schools may challenge newcomers. 
 Tips: 
Explain to parents the value of actively participating in their kids' education, including school activities and parent-teacher interactions. 

 

Manage expectations regarding access and availability of pre-school for families with small kids, including possibilities with public assistance programs. 

 

Be prepared to answer questions about higher education, including costs and language requirements, and evaluation of diplomas or vocational certificates obtained in Ukraine. 
Given the general case composition of women with minor children, employing Ukrainian clients will present opportunities and challenges. Many individuals coming to the U.S. will have attended tertiary education and have previous work experience. Others may have childcare and language barriers, little to no work experience, or unrecognized qualifications.  
 Tips: 
Provide realistic information about employment, including when they will receive employment authorization documentation, find work, the need to pay taxes, and the possibility that the first job will not be in their chosen occupation.  

 

Underline the importance

and benefits of early formal employment in relation to temporary assistance and future financial self-sufficiency. 

 
Highlight that learning English is crucial for future job growth and overall integration. 
Ukrainians will not be familiar with the medical insurance system, the need for a referral to see a specialist, or the requirements for prescriptions from a doctor when going to the pharmacy. Additionally, vaccination might be a sensitive topic to discuss. Some cases might push back on vaccinations due to religious or social beliefs. Similarly, when it comes to mental health, Ukrainians prefer to utilize peer and family support and are not likely to seek professional care. It is not generally acceptable to discuss mental health or receive care for mental health. 
 Tips: 
Explain what is included in the initial health services provided to refugees upon arrival, including dental care. 

 

Manage expectations and review the process and timeline for receiving medical care and referrals in the United States. Highlight that same-day care is not always possible for non-urgent cases.

 

Clarify the vaccination rules related to immigration status and the required vaccines for childcare and in schools in your state. 

 
Build trust and carefully discuss the value of addressing mental health. To do this, apply a framework on its importance to overall self-care and well-being.

 
Renting initial housing in the United States might be a challenge for Ukrainian refugees. Individuals may not understand the complex leasing process, including background checks, lease requirements, and tenant rights and responsibilities. It is also possible that they will have higher expectations for their living conditions than what is available upon arrival. Ukrainian refugees may also prefer to live closer to their relatives or community.  
 Tips: 
Dedicate time to explain leasing agreements in detail. 

 

Review different expenses and the importance of timely payments.

 

Review the general use of appliances and utilities. For example, plumbing systems are different in the United States. 

 

Explain the consequences and penalties of terminating leases early, as families might consider looking for cheaper renting options after initial housing is provided. 

 
It is important for Ukrainians resettling in the United States to understand the complexities of the immigration system. It's critical to ensure individuals follow their status requirements, whether they are paroled into the United States or enter through the United States Refugee Admissions Program.  
 Tips: 
Explain the importance of obtaining all vaccinations, which are required as a part of parole status or for those that may be eligible to apply for permanent residency or Green Card.

 

Ensure cases know how to change their address with USCIS by filling out the AR-11 form for each family member.

 

Connect, as possible, individuals to qualified legal advisors since immigration law is complicated. 

 
Ukraine has a complex public assistance system marred by insufficient coverage and lack of transparency. Many Ukrainians tend to rely on social support benefits, including birth and maternity installments, disability payments, or subsidized utilities.  
 Tips: 
Invest time to explain the complexity of the public assistance system in the United States, including differences between benefits and the timeline to receive them.  

 

Be prepared to answer questions on exact amounts and duration of public assistance, including information about Supplemental Security Income.

 
Practice with cases how to contact and receive information about public assistance independently, including how to request interpretation.

 
Additional Resources