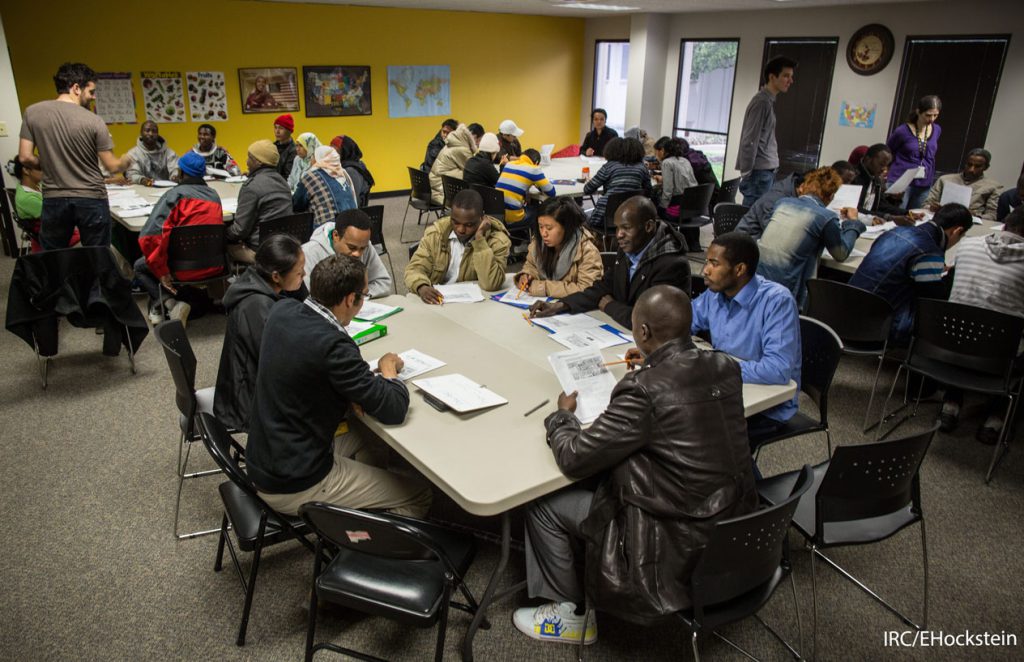 Research and Evidence
CORE is committed to effective Cultural Orientation programming that is grounded in research and evidence-based approaches and that applies effective practices. This page provides details on what this means and links to resources that support these outcomes.
Current Research and Evidence for Cultural Orientation
Based on recent literature mapping, which considered 30 articles, guides, framework documents, and studies from 2010 to 2021, Cultural Orientation programming should:
1.  Be iterative in nature, with repetition across resettlement journey and a focus on skills, knowledge, and attitudes.
2. Delivered as a part of bundled services instead of a stand-alone form of programming.
3. Leverage social capital (i.e. community members and volunteers) to disseminate cultural orientation messaging and encourage better community integration.
4. Utilize digital learning platforms to disseminate cultural orientation messaging and give participants control of their learning process, including when and how they engage with the materials provided.
5. Recognize the diversity of refugee populations. Providing programming that uses a demographic-specific approach, allowing for better engagement, rather than a one-size-fits-all approach.
1. To practice iterative approaches and deliver Cultural Orientation as a part of bundled services:
2. To leverage social capital and encourage better community integration:
3. To utilize digital learning platforms:
4. To recognize diversity of refugee populations:
Taking an evidence-based approach involves using the best available practices, including well-researched evidence and interventions to design and deliver Cultural Orientation programming. Using an evidence-based approach signals a commitment to meet the unique needs of those receiving Cultural Orientation. In taking an evidence-based approach Cultural Orientation providers can optimize outcomes related to refugees obtaining the knowledge, skills, and attitudes needed to successfully integrate into the United States.
The term "effective practice" is the term used to describe best, promising, or innovative (or emerging) practices.
A best practice is a method or technique that has been proven to be highly effective and validated through the collection of comprehensive evidence obtain through research and evaluation. While a promising practice can also be highly effective, it has not undergone the same level of research validation as a best practice. There is still a level of evidence, but it's generally less rigorous.
Promising Practices
Each promising practice includes step-by-step guidance, examples from the field, and tips for success. Promising practices use research and a thorough set of interviews with field practitioners.

Delivering Effective Remote Cultural Orientation
Cultural Orientation is usually an in-person learning experience. However, there are occasions where in-person delivery is not possible due to distance, health, or other circumstances. This promising practice provides additional in-depth guidance and tips on how to deliver effective remote Cultural Orientation.
Go to page

Including Guests from the Community
This document focuses on how inviting guests from the community can make Cultural Orientation more relevant to your learners, and also increase their engagement. Guests from the community can also help reinforce key messages and may be used to address specific population needs.
Go to page

Delivering Gender-Segregated Cultural Orientation
This document examines the practice of conducting gender-segregated Cultural Orientation sessions. These types of sessions allow providers to address common barriers that prevent women from attending or participating in Cultural Orientation, while also enhancing learning through content customization and the creation of a positive learning environment.
Go to page

Using Volunteers for Cultural Orientation
This document examines tips for using volunteers as a part of Cultural Orientation delivery. Volunteers can have different roles in the implementation of Cultural Orientation, including serving as interpreters, working as trainers, assisting with childcare, providing transportation, or contributing to curriculum design.
Go to page Whole-Office Approach to Cultural Orientation
It can be challenging to get your organization to modify how they deliver Cultural Orientation messages outside of traditional cultural orientation sessions. This resource includes tips on introducing a Whole-Office Approach to your organization and some suggested activities that will foster discussion on how to improve the delivery of Cultural Orientation messaging to refugees you serve.
Go to page
How to Guides
Each how-to guide provides key principles for implementation, resources, and examples from the field. How to guides use research and when available, interviews with field practitioners.
Online Courses
CORE offers free self-paced online courses and webinars that cover a range of topics that align with best practices for delivering effective Cultural Orientation.

The Refugee Resettlement Journey
New to refugee resettlement or need a refresher? We get down to the basics in this course to help you understand the United States Refugee Admissions Program (USRAP). After this course, you'll be able to define key USRAP terms and explain the process refugees undergo during the resettlement journey.
Go to page

Navigating Identity and Inclusion in Refugee Resettlement
In this course, you will explore concepts of identity, intersectionality, and inclusivity, with a focus on their relevance to refugees' lived experiences. Through stories and reflective exercises, you will be able to define these terms, as well as identify strategies and take action to deliver inclusive Cultural Orientation (CO) and apply these concepts to other early resettlement services.
Go to page

Integrating Digital Technology in Cultural Orientation
In this course, you will consider the growing role of digital technology in the refugee resettlement experience. You will also learn tips and strategies to integrate digital technology into Cultural Orientation delivery.
Go to page
Additional Resources
Looking for more research and evidence? Review these websites to find additional effective practices, reports, evidence studies, and policy briefs on other refugee resettlement topics.