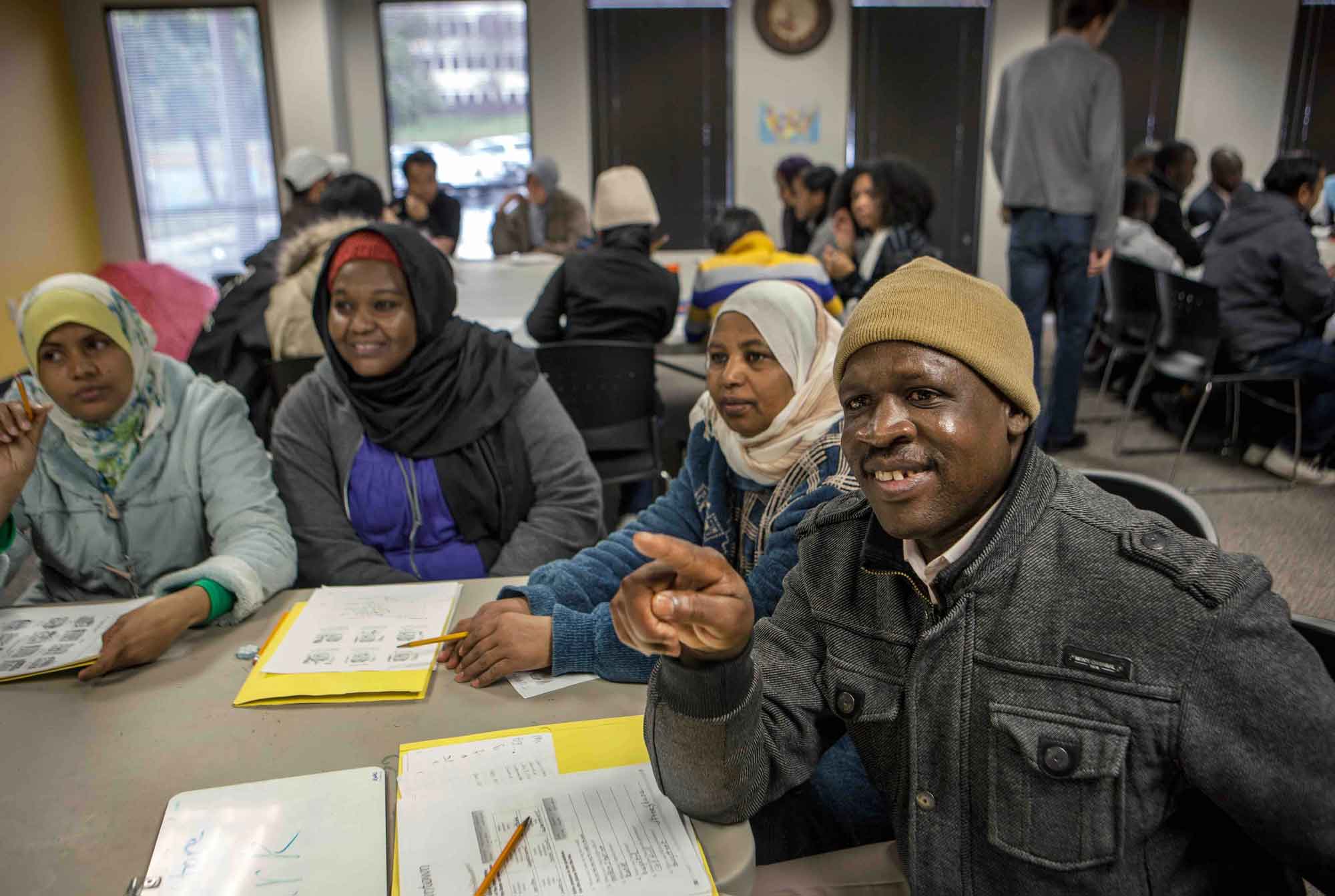 Working with Refugees
This page provides a broad overview for effectively working with refugee populations, along with resources to use when working with refugees resettling to the United States. Refugees are processed by the U.S. Refugee Admissions Program (USRAP), administered by the U.S. Department of State Bureau of Population, Refugees, and Migration (PRM) in cooperation with the Department of Homeland Security and the Department of Health and Human Services.
Refugees arrive to the U.S. having a well-founded fear of persecution and are deemed unable to return to their home countries. Resettlement Agencies (RAs) are funded by PRM to resettle refugees, providing required core services and basic necessities during the refugee's first 30-90 days in the U.S. through the Reception and Placement (R&P) Program. For more detailed information about specific refugee populations, visit the About Refugees page.
Service Delivery Approaches
The following section identifies two approaches to consider when working with refugee populations: a strengths-based approach and a trauma-informed approach. The information provided is summative and you are encouraged to review resources provided under the Learn More section for each approach. For detailed guidance on delivering effective Cultural Orientation, visit the Provider Onboarding page.
IMAGE CAROUSEL
Take a Strengths-based Approach
Slide Content
Take a Strengths-based Approach
Implementing a strengths-based approach with refugees can aid in their effective resettlement and longer-term integration. A strengths-based approach refers to policies, practices, and strategies that identify and draw upon the strengths and capacities of individuals and communities instead of focusing on deficits. Deficit thinking centers on shortcomings and failures, instead of strengths and capabilities. Applying a strengths-based approach has the potential to improve self-awareness and develop an individual's confidence.
Learn More:
Apply a Trauma-Informed Approach
A trauma-informed approach recognizes the presence of trauma symptoms and acknowledges the role trauma may play in an individual's life. The impact of exposure to traumatic events will differ depending on the individual. Some individuals may not display any symptoms of trauma and can cope with difficult experiences in healthy and productive ways. For others, trauma may have a profound and lasting impact on their daily functioning. The intention of a trauma-informed approach is not to treat symptoms or issues related to the trauma; rather it is to provide support services in a way that is accessible and appropriate to those who may have experienced trauma.
Learn More:
Practice Cultural Humility, Awareness, and Competency
Cultural Orientation plays a vital role in the integration of newcomers. If you deliver Cultural Orientation, educating yourself about your clients' background and culture is essential in facilitating a relationship of understanding and trust. This can be done by practicing cultural humility, awareness, and competency. This page provides guidance on how to apply these concepts in Cultural Orientation and on navigating communication across cultures.
Learn More:

Deepen Your Knowledge
Access the following resources to learn more about specific refugee populations and hear from refugees about their experience resettling to the United States.

About Refugee Populations
Find refugee backgrounders and learn about the refugee populations being resettling in the United States. Refugee Backgrounders provide U.S. resettlement communities with basic information to better understand and serve their new clients. Backgrounders include information about a population's history, culture, religion, language, education, and resettlement needs.
Go to page

Refugee Stories
Hear from refugees about their experience resettling in the United States.
Go to page
Resources for Refugees
CORE's refugee-facing digital platforms offer more than 500 resources in multiple formats and languages. These platforms and resources prioritize visual simplicity and design clarity, low-literacy and low digital literacy needs, and cultural and linguistic adaptability. If you're new to CORE, below is an overview of our resources for refugees. Settle In U.S.
Maximizing visual communication to address low-literacy and low digital literacy users, this site provides refugees with clear and vital information on U.S. resettlement, including videos, fact sheets, and podcasts.
Go to page Settle In App
The mobile and desktop app is an easily accessible companion for refugees during their resettlement journey to the United States, providing short videos, interactive lessons, and badges to reward and track learning progress.
Go to page Settle In Facebook
Settle In Facebook, an initiative launched by CORE, is designed to directly engage newly arrived Afghans resettling in the United States. This platform serves as another touchpoint to disseminate vital, correct information in an interactive format tied to early resettlement services, employment, housing, and education.
Go to page

Welcome Guides
The Welcome to the United States guidebook helps refugees prepare for the first months in the United States. It tells refugees what to expect as they look for work and adjust to American culture.
Go to page Waiting Room Resources
Download posters and handouts designed to utilize the time refugees spend in waiting areas at Resettlement Support Centers and Resettlement Agencies.
Go to page