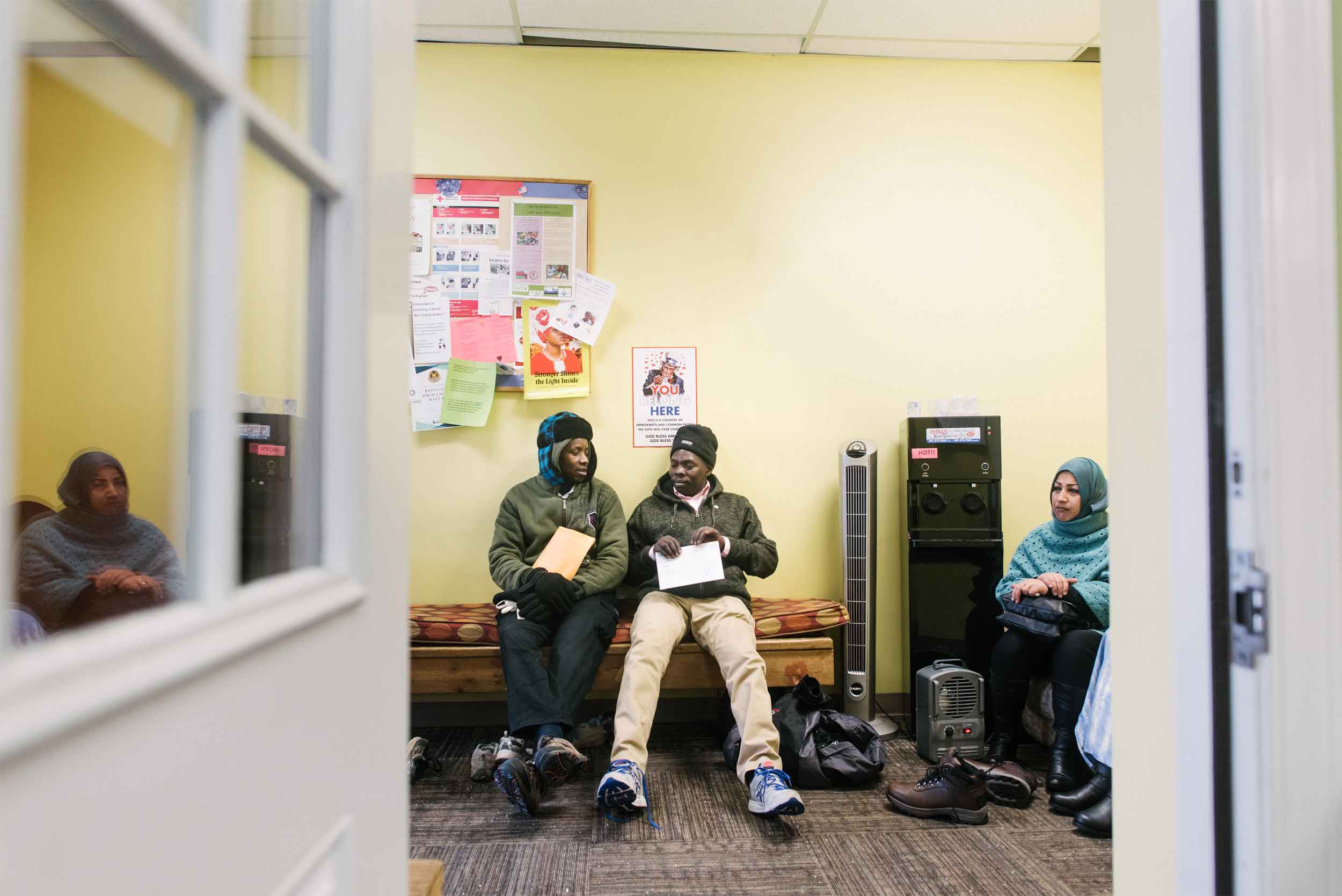 Waiting Room Resources
Your office waiting room and other gathering spaces can be essential touch points to reach newcomers between face-to-face appointments. CORE's Waiting Room Resources can help you utilize the time newcomers spend in waiting areas and help reinforce key Cultural Orientation messaging. Waiting Room Resources are useful for sharing at Resettlement Support Centers and local Resettlement Agencies, as well as for use by Community Sponsors and Partners.
Tips to Improve Your Waiting Room and Other Spaces
Across all topics, formats, and languages, CORE has more than 600 resources in multiple formats and languages that you can use in your office:
Posters, Palm Cards, and Flyers
CORE designed translated posters, flyers, and smaller, take-away palm cards directing refugees to the Settle In mobile app (Android, Apple), Settle In website, and Settle In Facebook pages (for Afghans and Ukrainians). Text is limited while prioritizing visually engaging images with clear links to digital resources including QR codes for digitally adept users.
Tip: The poster can be printed as 24 x 36 or scaled to fit standard 8.5 x 11 printer paper. Print and hang palm cards and flyers in waiting rooms or around your office, or display printables for refugees to take home. For Community partners and sponsors, consider displaying resources in cultural or religious centers, libraries, or other locations regularly accessed by newcomers.
Fact sheets
Fact sheets cover USRAP and Cultural Orientation topics and are available in multiple languages on the Settle In website.
Tip: Print and display fact sheets on a waiting room table or in a display case for refugees to read and take home.
You can play videos or audio on Cultural Orientation topics if you have a television, computer screen, or speakers in your waiting room.
CORE's YouTube page has playlists of videos in over 10 languages, organized by Reception Placement and United States Refugee Admissions Program. If your waiting room doesn't have access to the internet, you can request video files from CORE for download and create a PowerPoint presentation that plays the videos in a loop.
If you only have audio speakers available, browse CORE's SoundCloud page for audio versions of Cultural Orientation topics and download them, if needed.
Tip: If you have language-specific needs, create your own Youtube playlist using CORE's videos to tailor messages to your population.
Don't have a waiting room, or not sure where to start? That's OK! Think about other opportunities where refugees could interact with Cultural Orientation resources:
Bring fact sheets or mobile devices on circuit rides, to airport reception, appointments, and home visits
Play podcasts during car rides to appointments
Distribute fact sheets, posters, and palm cards to other community centers and housing areas refugees frequent
Decorate classrooms, conference rooms, or computer labs with CORE posters
Include fact sheets and palm cards in welcome packets
Tip: Download, customize, and share the Action Plan checklist (Word, PDF) to ensure key messages are reinforced across your office. Learn more about the Whole-Office Approach and how you can encourage all staff to reinforce key Cultural Orientation messages.
Waiting Room Resources
Settle In Palm Cards outline instructions on downloading and accessing the Settle In mobile app. They are similar in size to a postcard, making them easy to print and share.
Settle In Palm Cards are available in Arabic, Burmese, Dari, English, Kinyarwanda, Pashto, Russian, Spanish, Swahili, and Ukrainian.
In addition, supplemental Palm Cards link to Settle In for Ukrainians, Settle In for Afghans, and the Settle In mobile app. Available in English (Settle In for Afghans), English (Settle In for Ukrainians), Dari, Pashto, Ukrainian, and Russian.
Posters provide links to download the Settle In mobile app. You may print posters and hang them in waiting rooms, around your office, or at other touch points to promote access to the Settle In mobile app.
Flyers provide links to download the Settle In mobile app. They are similar in size to printer paper, making them easy to print, share, or hang throughout various service delivery touchpoints.
Pre-Departure Fact sheets and Booklets include key messages about resettling in the United States, the role of the resettlement agency, and more. You may provide Fact sheets and Booklets as handouts at the end of pre-departure Cultural Orientation or other touchpoints during service delivery.
Related Resources
CORE has over 600 refugee-facing resources varying in different topics, formats, and languages that can be used in your work. Learn more about CORE's refugee-facing resources and how you can incorporate these resources to make your Cultural Orientation sessions more interactive and engaging. Working with Refugees
This page provides a broad overview for effectively working with refugee populations, along with resources to use when working with refugees resettling to the United States.
Go to page Activity Bank
Explore a variety of activities, complete lesson plans, and access additional resources for different Cultural Orientation topics. Use the information to create Cultural Orientation sessions that meet the different language and literacy needs of your participants, while also applying adult-learning principles, student-centered learning, and integrating digital technology.
Go to page

Research and Evidence
CORE is committed to effective Cultural Orientation programming that is grounded in research and evidence-based approaches and that applies effective practices. This page provides details on what this means and links to resources that support these outcomes.
Go to page