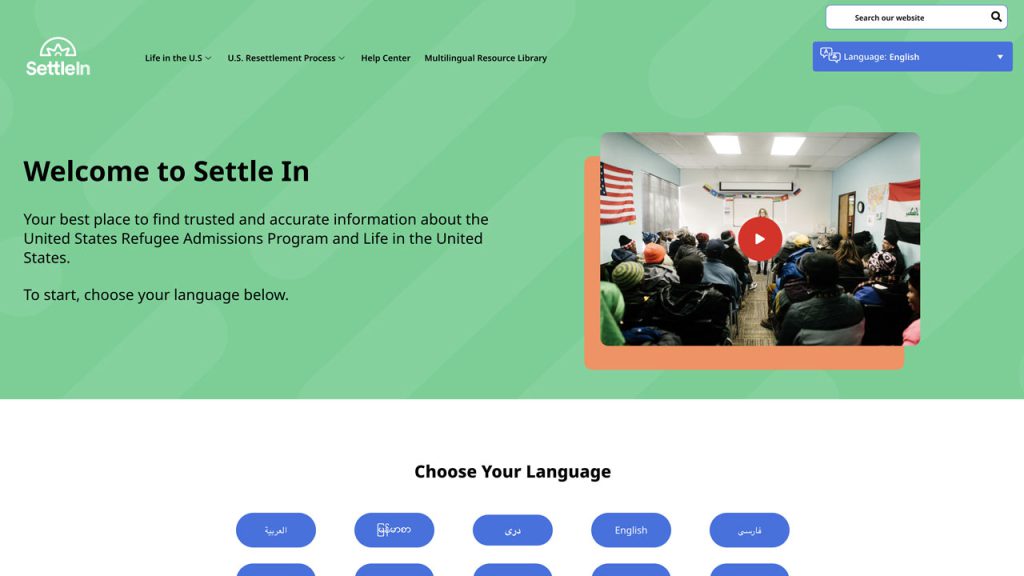 Last week, Settle In received a Silver Anthem Award under the Humanitarian Action and Services category. The Cultural Orientation Resource Exchange (CORE) team is honored to receive this award and humbled by what it represents. We also want to recognize and thank all of those that have been great partners, collaborators, and supporters of this project. We look forward to growing and continuing our work together.
About the Submission: Taking a client-first approach, Settle In is a go-to trusted digital information source for refugees resettling to the United States. Funded by the Department of State, Bureau of Population, Refugees, and Migration, Settle In meets newcomers where they are through a multilingual website, app, and social media presence. Settle In platforms provide resources in a variety of accessible formats, live events, and customized direct two-way communication—all of which are simple, clear, and reliable.
At the time of entry, Settle In had 600+ resources in 10 languages and the past year, reached over 200,000 users. The Settle In website had 39,180 users viewing 271,121 pages; the Settle In app was downloaded 13,796 times; and the Settle In Facebook page with over 13,000 followers has had 160,000+ engagements.
You can learn more about this work on our digital platforms:
More on the Anthem Awards: The Anthem Awards honors the purpose & mission-driven work of people, companies, and organizations worldwide. This year's competition received nearly 2,000 entries from 43 countries worldwide. Anthem Winners are selected by the International Academy of Digital Arts and Sciences, which includes members from The Atlantic, Nike Purpose, NAACP, The Oprah Winfrey Charitable Foundation, Etsy, and more. This year's winners included Gloria Steinem (Anthem Lifetime Achievement), Amanda Gorman (Anthem New Icon), Sesame Workshop, Ad Council, UNFPA, and many more. We were also among three projects from the IRC to win an award this year.